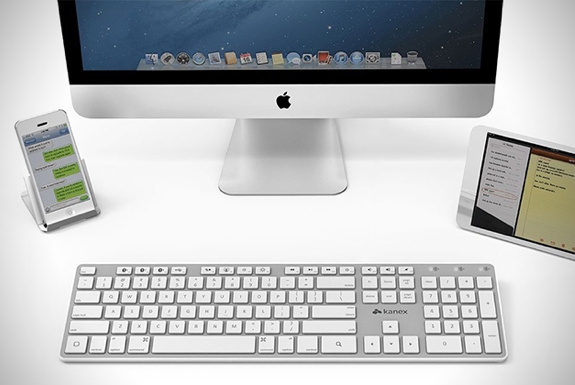 Lots of people use a wireless Bluetooth keyboard to type on their MacBook laptops, on their iPads, on their televisions (via Apple TV) and on their iPhones. But not many people use a single keyboard on all those devises — unless they have a keyboard like the Kanex Multi-Sync Bluetooth Keyboard.
The Kanex Multi-Sync can pair to as many as three Bluetooth devices simultaneously. Buttons on the top of the keyboard make switching between devices seamless. Very cool.




The Kanex model is not the only keyboard on the market that allows for such multitasking. But it does have some key features others don't:
A micro-USB port. A cord with a full USB on the other end is included. It allows the Kanex Multi-Sync to make a wired connection to a fourth device (like a desktop). Extreme multitaskers take note: No other keyboard allows for more than three connections.
A home button. Pull up the main screen on your iOS device in a single keyboard push.
Relatively inexpensive. Not exactly cheap, at $58 (with the current Amazon discount, or £70 in Europe), but that's the same or less than competitor models of a similar quality.
Full size. The Kanex Multi-Sync includes a numeric keyboard, 15 function keys and page navigation keys.
[ ALSO ON SCS: The Waterproof, Dishwasher Safe, Keyboard ]
Being a full-sized keyboard, the biggest downside of the Kanex Multi-Sync is that it doesn't fit in most laptop bags. To us, the keys felt slightly squishy (although some of our testers preferred that to, say, the somewhat more springy keys of an MacBook laptop). Also, the Kanex Multi-Sync Bluetooth Keyboard will only work with a Mac.
If you are looking for a more portable multi-sync bluetooth keyboard consider the Logitech Bluetooth Easy-Switch — it's excellent (albeit more expensive) and comes in a PC model.
published: 21 Jan 2014

LEARN MORE & BUY | JOIN US ON TWITTER / FACEBOOK / PINTREST |

Related posts on Spot Cool Stuff:
A Review of the QOOQ Cooking Tablet
The Asus Eee Keyboard PC Returns
Should You Upgrade To an iPhone 5c or 5s?
Elsewhere on the web: