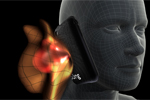 spot cool stuff TECH
Thirty years from now will every adult have cell phone shaped cancerous tumors around their ears?
Disturbingly, the answer to that question is: maybe.
Some government agencies, such as America's Food and Drug Administration, say risk from cell phone radiation is minimal. Others, such as the UN's World Health Organization, say that alarm bells would make for an appropriate ringtone. France has gone so far as to ban children from using cell phones specifically because kids are most susceptible to radiation.
The wisdom of French lawmakers aside, the truth is that no one really knows with certainty the effects years of cell phone radiation can have. Only after long term studies can there be conclusive answers. At which point it might be too late.
So what's one to do?
---