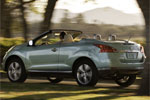 spot cool stuff TECH
Wow! What kind of car is that?!
That was the question drivers rolled down their windows to ask us every few blocks as we were test driving the 2011 Nissan Murano CrossCabriolet through downtown Dallas, Texas. On the highway, cars adjusted their speed so to drive alongside us for a closer look. When we stopped in a Starbucks, we overheard customers entering the coffee shop talking about what a sleek set of wheels we had.
Nissan flew Spot Cool Stuff to Dallas for their media unveiling of the world's first all-wheel drive crossover convertible vehicle1 in advance of the vehicle's April sales launch. From the moment we saw the Murano CrossCabriolet we knew it would be a head turner—it's unlike any other vehicle on the market today. But is it worth its $46,390 price tag? Our review:
---