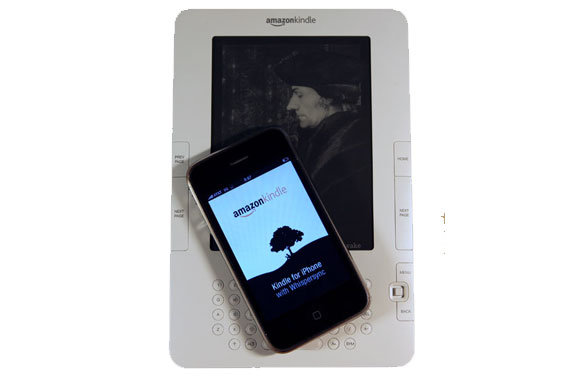 Spot Cool Stuff has been a long-time fan of the Kindle Reading Device. The recently-released Kindle 2 is as thin as a magazine, as light as a paperback and has enough storage capacity for 1,500 books! More than 240,000 books are available for download at Amazon's Kindle Store as are scores of newspapers and magazines. And Kindle books generally cost 30~50% less than their dead-tree counterparts.
But you don't necessarily need a Kindle Device to enjoy some of the Kindle experience. If you have an iTouch or iPhone there's an app that will allow you to read Kindle books.
Here's a rundown of the benefits and limits of the Kindle iTouch app:
With the Kindle iTouch/IPhone app you can:
Read any book that's sold in Kindle form, including the free sample chapters that are often available.
Bookmark and make notes on any page in any book. The app will automatically return you to the last page you were reading so there's no need to bookmark as you read.
Adjust the font size and highlight text.
Easily navigate between pages—simply swipe your finger over the page.
Some of the disadvantages of the Kindle iTouch/IPhone app:
The current version of the app (1.0) cuts off the end of some indented paragraphs. We expect this to be fixed in future versions.
While the Kindle has a built-in dictionary, on the iTouch you have to use a separate dictionary.
Unlike the Kindle, there's no text-to-speech functionality.
Most disappointing of all, the app currently can handle only books, not Kindle-ized newspapers or magazines
Technically, you can download books wirelessly directly onto your iTouch/iPhone. The downloading process is easy and intuitive on an actual Kindle device but on an iPhone it is all a bit clunky since you have to work through the Safari browser. We found it much easier to download using a computer and then transferring the book to our iTouch from there.
Our final verdict:
An iPhone and iTouch does not make for a good Kindle substitute, partly because of the disadvantages of the app mentioned above but mostly because the screen is too small and hard on the eyes. The Kindle's screen is not only four times larger but has the e-ink technology that makes it look like a real book page. Frankly, we can't imagine reading an entire novel on an iPhone.
However, the app does turn an iPhone and iTouch into a great companion to a Kindle. Once you've bought a book you can load it on both devises at no extra cost. There are certain reference books—a travel guide, for example—that you'd want might rather have an your highly portable iTouch rather than the larger Kindle.
The app is also a great way to try out the Kindle service. And it is certainly worth the price, which is nothing. Download the Kindle app for free from the U.S.A iTunes store.
APPLE STORE | iTOUCH | iPHONE | KINDLE 2 | DOWNLOAD KINDLE BOOKS |
Purchase iTouch locally in: USA | UK | GERMANY | FRANCE | CANADA | JAPAN
Related posts & pages:
First Look at the Kindle 2
Use Your iTouch To Control A Wireless Home Stereo System
iPod Accessories




APPLE STORE | iTOUCH | iPHONE | KINDLE 2 | KINDLE STORE | FOLLOW US ON TWITTER