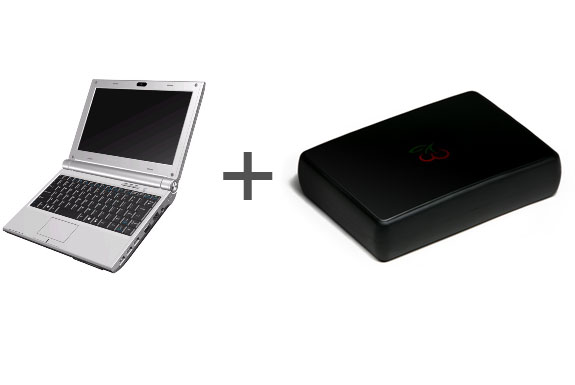 Thanks to Justin of the Wandering Justin Travel Blog for bringing this one to our attention:
Get a highly portable laptop computer and a compact desktop computer for the price of one!
That's the deal the startup—and environmentally friendly—Cherrypal computer company is offering through Amazon.com. For a mere $400 here's what you'll get:
The Cherrypal Bing Netbook:
1.6GHz processor
160 GB hard drive
3 USB 2.0 ports
Wifi (IEEE 802.11 b/g) built-in
10.2" TFT display
1.3 megapixel web camera (same as the Asus 1000HE's high quality webcam)
3 lbs weight
5 hours battery life
Those specifications are similar to the excellent Asus and Acer netbooks we recently compared. And those netbooks cost $350 and didn't come with a desktop. Which brings us to . . .
The Cherrypal C114 Desktop:
400 MHz mobileGT processor
256 MB of DDR2 DRAM
8GB flash drive
2 USB 2.0 ports
Weighs only 10 ounces
About the same size as two smartphones
In terms of processing power and storage capacity, the C114 desktop is underwhelming to say the least. We wouldn't recommend it for running graphically-intensive games or memory hungry software. However, it has enough oomph to surf the internet or do basic word processing. Plus, the C114 makes absolutely no noise and uses a mere 10% of the electricity needed to run typical desktop, making it perfect for that desktop to leave on 24/7 to answer your MagicJack or Skype calls, for example.
Both Cherrypal computers use an open source Linux based operating system. Windows XP is available, but you'll have to pay an extra licensing fee. The desktop does not include a monitor, keyboard or mouse.
Given that, if you are looking for a desktop only there are certainly better deals to be had. If you are looking for a netbook only then, as much as we like Cherrypal's environmental leanings, we'd still suggest the netbooks offered by Acer and Asus—both have models that are inexpensive and feature better battery life, keyboards and looks.
If, however, you happen to be in the market for both a netbook and a basic desktop then what more are you waiting for? Cherrypal's 2-for-1 deal is an outstanding value!
LEARN MORE & BUY (SHIPS INTERNATIONALLY) | FOLLOW US ON TWITTER |
Related posts & pages:
Acer vs Asus Netbooks
Slingbox – Watch your home TV channels on your laptop, from virtually anywhere
Cheap Hotels



Cherrypal Bing Netbook Laptop:
Cherrypal C114 Desktop:
LEARN MORE & BUY (SHIPS INTERNATIONALLY) | FOLLOW US ON TWITTER