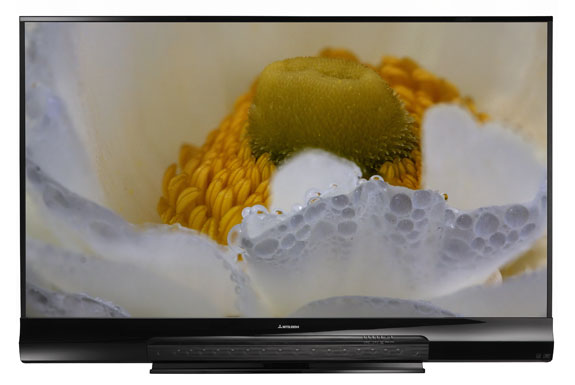 The stated aim of Mitsubishi's television division: To bring the movie theater experience into people's home.
To that end, Mitsubishi today unveiled a new 3D HDTV set that has—if we may use the technical term for it—a big ass screen. 92 diagonal inches of ass, to be specific. 92 inches! That's a full foot longer than LeBron James is tall.
When it becomes available to the general public sometime in the summer of 2011 this new Mitsubishi will be the world's largest consumer 3D television set.




In Spot Cool Stuff's experience, electronics that profess to be "the world's largest" are usually far from being "the world's best." But in this case it seems Mitsubishi has put as much effort into the quality of its screen as they did its largess. When we tested out the new Mitsubishi set at the 2011 Consumer Electronics Show we were highly impressed. The 3D effects were bright and crisp thanks to the internal DLP—this technology is virtually identical to that used in 3D theaters. Indeed, we found that the 3D quality supplied by this humongous television matched, if not exceeded, the quality offered by movie theaters.
The most apparent downside to us (besides the expected US$6,000 price tag!) is that viewing 3D on the new Mitsubishi set requires wearing special glasses powered by a small battery. The battery lasts about 100 hours but there's no easy way to tell if the glasses are powered on or off without looking through them. We imagine many people will be inadvertently leaving the glasses powered on.
The new Mitsubishi 3D HDTV sets are packed with all the features you'd expect for a high end unit, including internet connectivity, bluetooth, four HDMI inputs, a USB media player and a 120Hz refresh rate. The same technology is available in 60-, 65-, 73- and 82-inch screens too. Whichever set you choose, pair it with a good 3D Blu-ray player. And get the popcorn ready.
published: 4 Jan 2011

PURCHASE & PURUSE MITSUBISHI HDTVs | FOLLOW US ON TWITTER |
Related posts:
The Best Inexpensive HDTV Set
Philips And The Birth Of Ultra-Wide HDTV. Maybe.
Is the Samsung 3D Blu-ray Player Worth It?
A Review of the Panasonic 3D Camcorder
PURCHASE & PURUSE MITSUBISHI HDTVs | JOIN US ON TWITTER / FACEBOOK