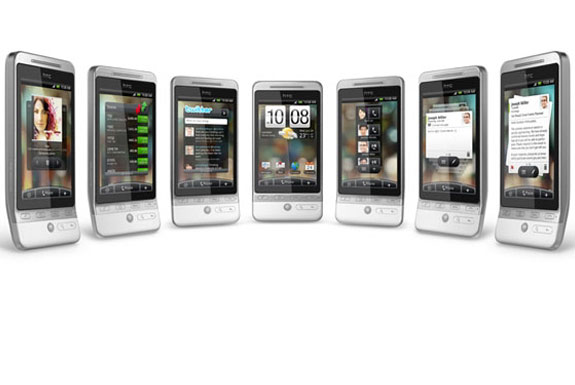 Sleek-looking smartphones are multiplying like Tribbles these days. Yet, even through all the noise created by the likes of the iPhone 3GS and upcoming Palm Pre, the HTC Hero caught our attention. And not only because this phone journeyed from drawing board concept to availability on Amazon.co.uk in a remarkable short period of time. In terms of form and function, the HTC Hero is one of the best phones out there.
It's features include:
Excellent use of Google's Android operating system. When Google first conceived of the Android mobile device OS one of it's main goals was to allow for a large degree of customization. The Hero is the first phone to incorporate a range of intuitive customization features through HTC Sense. No other phone makes as much use of Android's personalization features as the Hero does. Phone functions are essentially broken down into widgets, any widget can be placed on the home screen or linked to personalized menus

Multiple pre-programmable home screens or "scenes." For example, you might have one scene to have on your home screen for a weekday that includes a stock price widget, another for the weekend with a weather widget and another for traveling abroad that includes a currency converter.




Total social network integration. The HTC Hero was very much designed with Facebook and Twitter in mind. Your contacts on those sites, plus those in your address book, on Flickr and on YouTube, are all integrated; click on a contact and see what messages and tweets they've sent, what photos and videos they've uploaded, all at a glance. The HTC Hero will also automatically update Facebook info once every two hours.

Flash enabled browsing. The flash didn't operate completely smoothly (or speedily) in our testing. But it did work.

A trackpad at the bottom of the phone (see photo, below). Although the Hero has a touchscreen there were many functions for which we found the trackpad to be more convenient.

Many of the features you'd expect to find in a smartphone including GPS functionality, a compass, MP3 player, 3G, wi-fi and 5MP camera.
And all that comes in a very solid-feeling, cool-looking design. Which makes this phone a bit of a superhero.
The HTC Hero is currently available for pre-order to those who live in the UK.
date: June 2009
PRE-ORDER IN THE UK | FOLLOW US ON TWITTER |
Related posts & pages:
Skype Comes to the iPhone
The Best Reviewed Smartphone Never Built
MagicJack vs. Vonage vs. Skype
Smartphone Reviews





PRE-ORDER IN THE UK | CELL PHONE SCREEN PROTECTORS | FOLLOW US ON TWITTER