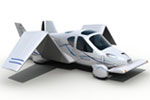 spot cool stuff TECH
The Transition is fueled by the same unleaded gasoline used by your typical earth-bound car.
The reality in 2009 is not the future people envisioned in the 50s, 60s and 70s. Where's our colony on Mars?! Where's our talking robots that will do all our household chores? Where's our flying cars?!
We're still far off from building a city on another planet. The closest we've coming to affordable chore-performing robots are the Looj and Rumba. But the flying car is no longer science fiction.
---