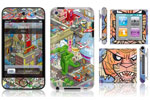 spot cool stuff TECH
Black is the color of nearly every iPhone (and other cell phones), iPod (and other MP3 players), iPad (and other tablet computers) and Kindle (and other e-book readers). So putting a skin covering on your electronics devices is as much about making it distinctive as about protecting it. Fortunately, GelaSkins has you covered in both regards. Their skins are both durable and personality-full.
Gelaskins are available for a huge variety of gadgets, including virtually every major smartphone, all the recent models of the iPod and Zune and the most popular ebook readers, gaming consoles and Apple MacBooks variations. You can even get a skin for a Magic Trackpad.
For each of those, you can choose from hundreds of pre-designed skins or—and we find this very cool—design your own.
---