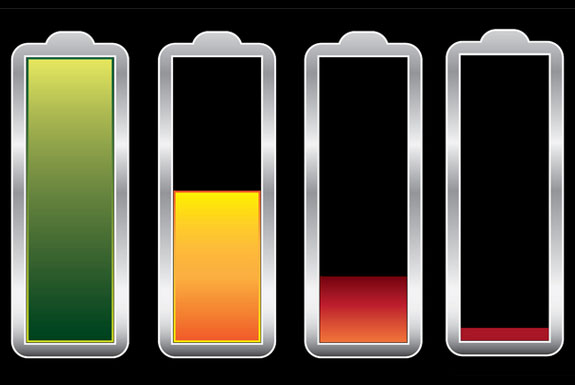 Laptops are the epitome of convenience and mobile work efficiency. And that makes battery life an especially key feature to consider when shopping for laptops—nobody wants to find themselves out of power.
Nearly every computer manufacturer advertizes their laptops as having X hours of battery life. That can be useful number when comparing one to another during the buying process. But a laptop's battery life isn't like its weight or screen size—a static, easily quantifiable figure. Your real-life battery performance is greatly affected by how you use your laptop. The good news being that you can take an active role in extending the hours of laptop time you can get between charges.
Here are seven simple tips for doing exactly that:
Maximize RAM, Defragment the Hard Drive
Hard drives suck battery juice. The more they spin the more power they need. So anything you can do to limit your laptop's need to access its hard drive saves battery power. For that reason we suggest maximizing your laptop's RAM, recalling data from RAM being much less power intensive than from a hard drive.
On Windows machines, it also helps if you regularly use your defragging utility. That helps your hard drive operate as efficiently as possible. (Defragmentation is more of an automatic process in the Mac OSX.)
Lower Screen Brightness
Arguably the easiest way to improve your laptop's power consumption: lower the brightness level of its LCD screen. The level of screen brightness you need is directly related to the brightness of your work environment; turning off lights in the room where you are using your laptop can prolong your battery life and save electricity.
Lowering the brightness also has the benefit of lengthening the life of your screen.
Use Power Saving Options
Nearly every laptop has software options that allows users to improve power consumption. In Windows, these features can be found in a menu named "Power Options" that is located in the Control Panel. For Mac users, look under "Energy Saver" (pic, below) in your System Preferences menu. Typically you can use these options to tell your laptop how long to wait until it powers off when it remains idle.

Use Standby More Often
Often people leave their laptops running when they leave their work desk. This needlessly consumes battery life. Instead, use standby mode to cut down on power consumption when not using the laptop during these brief periods.
Disconnect Laptop Devices When Possible
Unplug any peripheral devices you aren't using. Those devices, even when idle, drain power from the laptop's battery. Along those same lines, turn off your laptop's Bluetooth and Wifi receptors if you don't need them on.
Turn off the Audio
Speakers and headphones use lots of laptop battery's power. If you turn the volume down, power consumption is greatly reduced. If the audio is muted, consumption stops all together.
Browse the Internet With IE or Firefox
When surfing the web sans power cord, the brand of web browser you use can have a surprisingly large effect on battery life. In our experience, Spot Cool Stuff has found Firefox to be the most energy efficient browser. A more scientific look at the issue concluded that using Internet Explorer produced the longest battery life; but then that study was conducted by Microsoft, the company behind IE, so treat that finding with whatever level of skepticism you believe is appropriate.
published: 1 August 2011

Related posts:
Dell's Inspiron Duo Tablet-Netbook Convertible
How To Best Configure a New MacBook Pro
Google Chromebook Comparison: Acer vs Samsung




Have another tip for reducing battery power consumption? Share it in a comment: