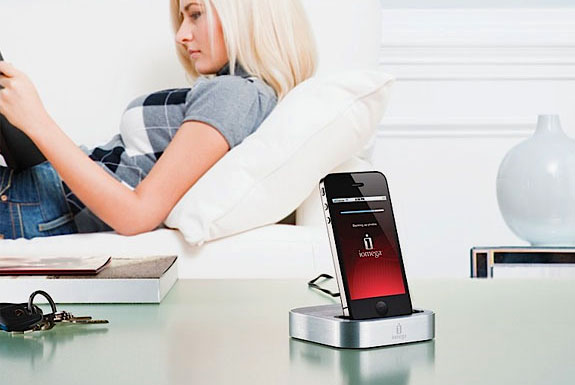 At first glance it looks like a mild-mannered iPhone and iPod charging dock. But when you need to backup your iDevices's contacts and photos, or synch those with your computer, it transforms into an Iomega SuperHero.
That's because this sleek little iPhone charging dock has two hidden powers: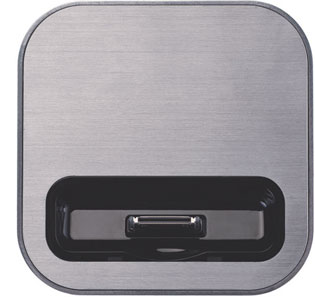 First, it backs up your contacts and photos onto an SD card plugged into the dock's base. With the SuperHero app, the dock can automatically backup every night (provided you plug your iPhone into the dock, of course). You can also use the SD card to download your backed up data onto another computer.
Second, the Iomega SuperHero will seamlessly synch your contacts with those on your computer. For Mac users this is not new. On Windows, iTunes inexplicably does not back up contacts, opening the need for Iomega's third-party workaround.

The Pros & Cons

A good value. The SuperHero lists at $70 (though only $55 with the Amazon discount). It comes with a 4GB SD card. The corresponding iPhone app is free.

The SuperHero backup app is incredibly easy and intuitive to use. The backed up data is encrypted for security and privacy.

The metalic dock itself is slim and cool-looking. The charger that powers it is rather clunky, though that can be hidden away.

The SuperHero can not back up video, apps or music. This is not Iomega's fault—it's an (absurd) Apple restriction. Fortunately, the SuperHero can back up photos. Which brings us to . . .

. . . backing up photos can be slow. Transfer times can be increased greatly by replacing the included card with a higher quality one, like a SanDisk Extreme Pro.

Our Verdict
For Windows users, unable to easily sync contacts using iTunes, the Iomega SuperHero is a great tool—and it looks great too.
For Mac users, the SuperHero is a bit superfluous. If you regularly plug your iPhone and/or iPod into your computer and back it up there's no need for a SuperHero. But then lots of people (ourselves included) don't regularly do that. Knowing your data automatically backs up every night, the SuperHero's greatest power may lay in letting you sleep a little easier at night.
published: 21 July 2011

LEARN MORE & BUY | JOIN US ON TWITTER / FACEBOOK |




Related posts:
How To Best Configure a New Apple MacBook Pro
Mac vs PC Users Infographic
Apple iCar Concept Designs
Cool Design: iPod Dock Made From Old, Recycled Books