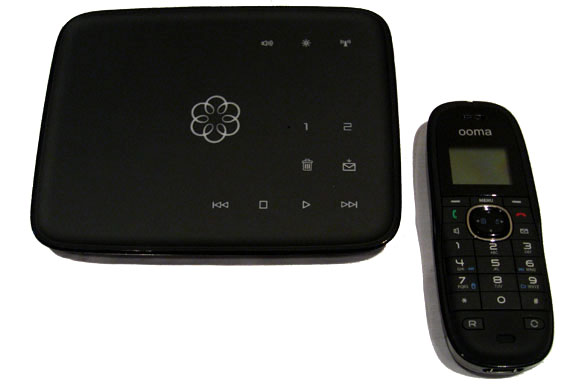 A few months ago we pondered the question Is the Ooma worth your moola? Our answer, in short, was:
Yes.
The Ooma Core VoIP Phone System is a product that allows users to make virtually unlimited telephone calls to, or within, the United States for free. Ooma's call quality rivaled that of competitors Skype and Vonage, and surpassed that of MagicJack. Since the Ooma operates independently of your computer, allows for 911 emergency dialing and works with any standard telephone, the system is perfect for people seeking a cheaper alternative to a landline. You can even transfer a current landline number to the Ooma.
Not content to rest on its laurels, Ooma has announced that it will soon launch an updated version of its VoIP product: the Ooma Telo.
The Telo will do away with the Ooma's old Hub and Scout system. Instead, the Telo will function entirely through a single console.
Among the other improvements:
Better call quality. The Telo makes use of a new processor that holds the possibility of vaulting Ooma to a lead position in telephone call clarity.

A new handset from which all the Ooma controls— including voicemail—will be accessible. The lightweight handset allows for customizable ringtones and will use DECT 6.0 technology (ie. an enhanced digital cordless signal that operates at a crisp 1.9 Ghz) for superior sound. As with the current Ooma, the Telo will also work with regular telephones.

A completely redesigned Ooma website that will be more user friendly than the current, rather clunky, one.
At least, those are the theoretical improvements. Will the reality measure up? Check back here to find out.
What we can say now is that Ooma as a company appears to be thriving. In our last review we argued that purchasing an Ooma came with some risk—if the company went under the Ooma device would likely be rendered useless. After meeting with Ooma executives and talking with industry analysts we're convinced that Ooma's long term viability is no longer a concern; the company is financially strong and getting stronger.
The Telo is scheduled to launch in late September or early October. The price for the console is expected to be $250, the optional handset $49. Subscribe to our RSS feed to get our hands-on review of the Telo delivered to your email inbox as soon as it is published.
August 2009
PURCHASE OOMA | VISIT OOMA WEBSITE | FOLLOW US ON TWITTER |
Related posts:
Is Ooma Worth Your Moola?
MagicJack vs. Vonage vs. Skype
The iPhone Skype App
The Best Skype Phones