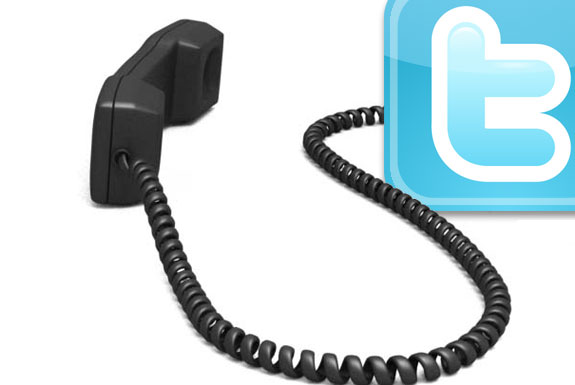 Spot Cool Stuff is fascinated by the ever expanding functionality companies are bringing to Twitter. Some hotels offer concierge services via Twitter. Some take-out restaurants allow customers to place orders via Twitter. And now at least one VoIP company, Jajah, is launching a service that places telephone calls via Twitter.
Here's how Jajah's Twitter calling works:

1) You sign up for a free Jajah account and input your Twitter username and your phone number (VoIP, landline and cell numbers all work).
2) The person you want to call must have a Jajah account with the same information. Also, you must each be following each other on Twitter.
3) You tweet "@call @_________", with that blank filled with the Twitter username of whoever you want to call.
4) Your telephone will ring, your callee's telephone will ring, and Jajah will connect your call.
The call is completely free and there's no need download software or have any special equiptment. The catch—and isn't there always a catch?—is that your call can be no longer than 2 minutes long. Also, because you are tweeting your call request you have to be okay with informing all of Twitterdom of who it is you are calling.
Given these limitations does Jajah's Twitter calling service belong in the Cool But Ultimately Useless category?
Maybe.
There are already multiple ways to place phone calls for free or nearly-free (such as Skype). With a tweet you can plan out your 140 characters but it isn't always predictable whether you want your call to last longer than two minutes or not.
On the other hand, there may well be people you don't want to talk to for longer than two minutes. [Insert mother-in-law joke here]. Another advantage: Jajah keeps the phone number of all their users confidential, which might make their Twitter service idea for some form of phone speed dating or for issuing ransom demands.
As of September 2009 the Jajah Twitter calling service was in a beta testing mode. Any Jajah user can ask to take part by emailing twitter@jajah.com.
GO TO THE JAJAH WEBSITE | SUBSCRIBE TO SKYPE | FOLLOW US ON TWITTER
Related posts:
MagicJack vs. Vonage vs. Skype
The Skype iPhone App
A Review of the Ooman VoIP Telephone System
The Best Skype Phones
The Best Twitter-Related Applications & Websites