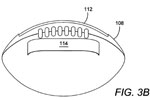 spot cool stuff TECH
One of the best ways to foresee what's coming down the gadget pike is to check out company patent filings. Though, of course, a patent for a product being filed doesn't automatically mean the product will become reality.
With that caveat we bring you this bit of cool news: according to the excellent website Nintendo World Report a patent has been filed for a Wii interactive football controller.
---